10 inch Square 1/2" AR500 Steel Target System . Available as a complete kit with hanger and mounting hardware or plate only.
PLATE ONLY: Plate only, no hanger or hardware.
FAIL SAFE HANGER KIT: comes with our new closed end FAIL SAFE hanger and hardware for the ultimate in target retention. Also included is an IRON BEAM CLAMP that attaches to the T post leg and prevents hanger "walk" down the post when using HEAVY calibers or slugs. TESTED WITH 12 GAUGE SLUGS. (video below)

STANDARD HANGER CHAIN MOUNT: comes with the "STANDARD" open end hanger and chain mounting hardware. The short chain section allows EXTREME target reactivity and ease of installation. Stable for handgun and light rifle. The 10 inch square 1/2" is heavier and will stay on the STANDARD hanger better.
Additional hanger kits can be ordered hardware section
Pics and video below
---
---
Fail Safe system installed w/ iron beam clamp and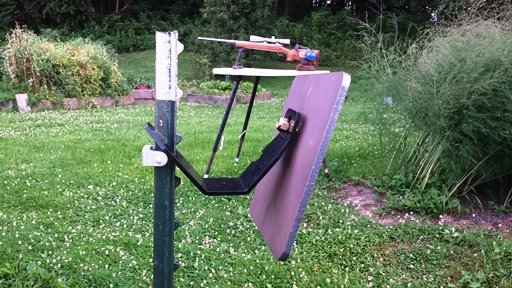 ---
The STANDARD hanger with chain mount offers more reactivity and ease of use. The 10" square plate has enough weight to stay in place when hit by all but the most HEAVY HITTERS (Hanger has been replaced with a re-designed STANDARD hanger)