10 inch Round 1/2" AR500 Steel Target.   Available as a kit complete with hanger and hardware or plate only.
FAIL SAFE HANGER KIT:   comes with our new closed end FAIL SAFE hanger and hardware for the ultimate in target retention while still being reactive.   Also included is an IRON BEAM CLAMP that attaches to the T post leg and prevents hanger "walk" down the post when using HEAVY calibers or slugs.  Tested with 12 gauge slugs on a 6" plate.  (VIDEO BELOW)  This 10" 1/2" plate is heavy enough that the FAIL SAFE option should only be necessary with the really HEAVY HITTERS.

STANDARD HANGER KIT comes with the STANDARD open end hanger and chain mounting hardware.  The short chain section allows

EXTREME target reactivity and ease of installation.    The plate can also be hung by a single bolt in the hanger slot for more angle and less reactivity.  This 10" target plate is heavy enough to stay in place with all NON MAGNUM calibers.  
STANDARD HANGER BOLT MOUNT   This option comes with our standard hanger and a 2 1/2" bolt and nut. 
CHAIN MOUNTING HARDWARE    includes a 1 1/2" carriage bolt / nut and chain section

CHAIN MOUNT  This is the most reactive option with great sound !!   Spot those hits at long range easier with this reactive target mount.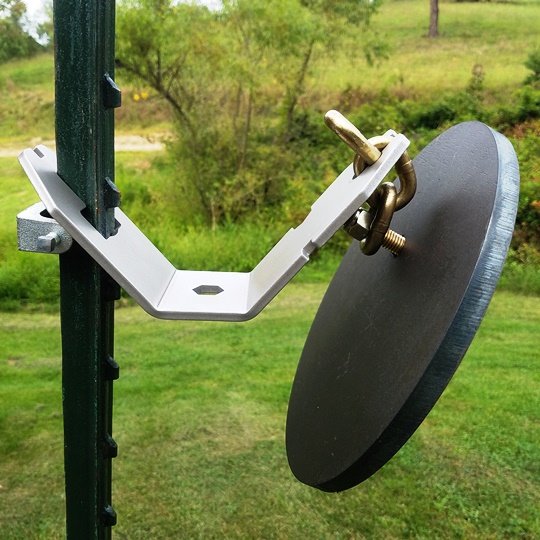 BOLT MOUNT  The bolt mount option increased target angle to approx 20 degrees.  The plate is less reactive for quicker reset.  Spall and energy are directed downward increasing saftey and target life.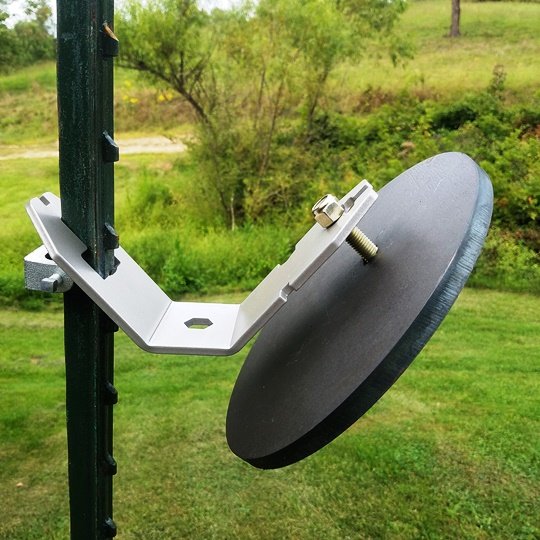 FAIL SAFE MOUNT  This mount is designed to eliminate knock offs when using the heavy hitters.  High energy rounds can knock targets weighing less than 10 lbs off our standard hangers so we designed the Fail Safe hanger when target failure is not an option.  Good sound, less reactive than the chain mount and quick reset.