10 inch Round 1/4" AR500 Steel Target.   Available as a kit complete with hanger and hardware or plate only.
1/4" AR 500 plate is generally used for handgun only but it can survive an occasional rifle hit that would render softer plate unusable after the first hit.   These plates are surprisingly tough as indicated by the video below.
Hanger kits available with powdercoated or RAW (uncoated) hangers.   Paint them yourself and save!
PLATE ONLY:   Plate only, no hardware or hanger
FAIL SAFE HANGER KIT:   comes with our new closed end FAIL SAFE hanger and hardware for the ultimate in target retention while still being reactive.   Also included is an IRON BEAM CLAMP that attaches to the T post leg and prevents hanger "walk" down the post when using HEAVY calibers or slugs.  TESTED WITH 12 GAUGE SLUGS.  (video below)
STANDARD HANGER CHAIN MOUNT: comes with the STANDARD open end hanger and chain mounting hardware.  The short chain section allows EXTREME target reactivity and ease.  Stable on the hanger with pistol and light rifle.    For 308 and larger use the FAIL SAFE HANGER.
STANDARD HANGER BOLT MOUNT kit:  This mount puts the plate at approx 20 degree angle to deflect spall downward.   Reactive front to back with limited side to side movement for close pistol work.  VERY good sound.
CHAIN MOUNTING HARDWARE    includes a 1 1/2" carriage bolt / nut and  3/8" Schedule 70 "short link" chain section.
FAIL SAFE

 H

ANGING SYSTEM WITH THE 10 INCH ROUND PLATE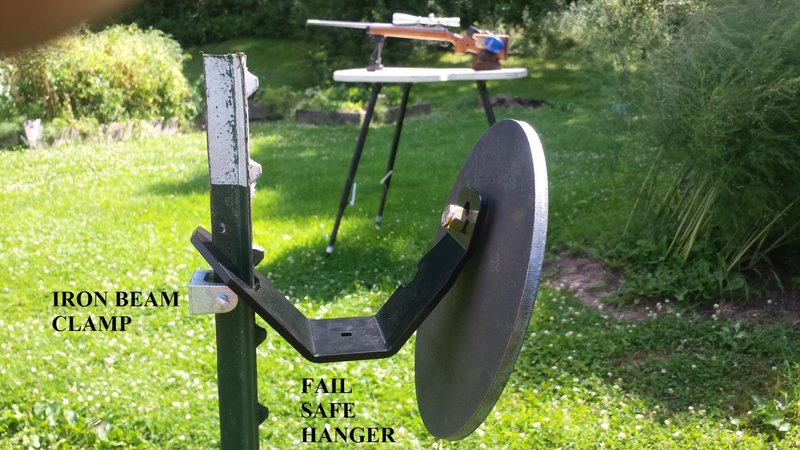 CHAIN MOUNT
 HANGING SYSTEM WITH THE 10 INCH ROUND PLATE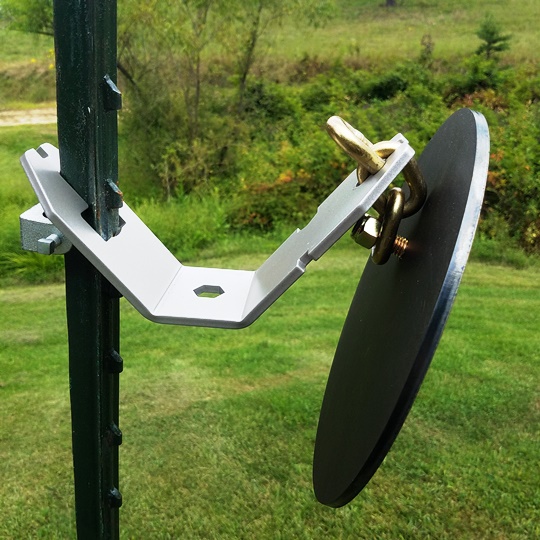 STANDARD HANGER BOLT MOUNT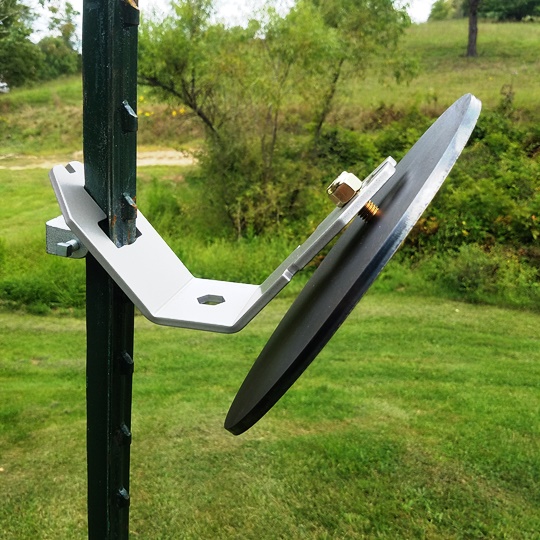 VIDEO
1/4" AR500 steel plate TESTED WITH RIFLE CALIBERS