IPSC A-C ZONE Target Systems AR500 1/2" .
Choose from several mounting OPTIONS including "plate only".
PLATE ONLY:    target plate only
STANDARD HANGER w/ Chain Mount:   This option comes with our Hang Fast standard hanger and chain mounting hardware.  Target plate hangs at a 10 degree angle to deflect spall and energy.   The Standard T post hanger is powder coated for durability and has a built in 3/4" wrench for the target plate bolt and  1/4" square wrench for the Iron beam clamp used in our other systems.   Hanger mounts on a standard T Post.  Grade 8 carriage bolt and nut with 3/8" SCH70 transport (short link) chain section.
STANDARD HANGER W/ BOLT MOUNT:   The angle mount uses a single 2 1/2" bolt / nut to mount the plate on the hanger.   This puts the plate at approx. 25 degree angle to better direct spall and energy downward.   VERY AUDIBLE and reactive front to back.   This simple system is far superior to the heavy welded bracket systems that hold plates ridged and dampen the CLANG we all love to hear.   The mounting hole location allows gravity to do the work and gravity is free.
Hanger kits available with powdercoated or RAW (uncoated) hangers.   Paint them yourself and save!
CHAIN MOUNT   This option is more reactive for spotting long range hits.  Great sound and easy setup.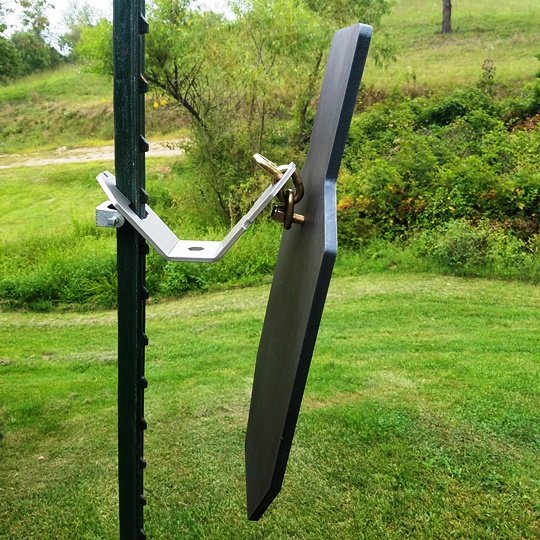 BOLT MOUNT  The BOLT MOUNT option increases target plate angle to direct spall and energy downward for safety and increased target life.