This is our STANDARD hanger IN THE RAW.
Paint it yourself and SAVE !
HANGER ONLY
Using the STANDARD  Hang Fast hanger with YOUR target plates:
 The Hang Fast Hanger is designed to hold the plate in a position that PROTECTS the hanger and hardware from bullet damage.  The plate MUST cover the hanger to accomplish this.   The bolt hole location in the plate is critical when using this hanger with the Chain Mount and MUST be at least 3 ¾" down from the top or the hanger will be exposed to bullet damage.   The smallest plate that can be used with our STANDARD hanger and a chain is 10".  For smaller plates use our FAIL SAFE Hanger.  Most plates manufactured by others have the bolt hole located too high to use with our hanger and CHAIN combo.  For these plates a single bolt can be used to hang the plate.  DO NOT tighten the bolt tight against the hanger.    Our STANDARD hanger is designed to be used with plates 10" and larger.   For  plates 12" and larger the bolt hole should be located 1/3 the height of the plate down from the top.     A 12 inch plate would have the hole at 4" down from the top.  The bolt hole must be .515 x .515 for a carriage bolt square shoulder to fully seat.  Our hanger is designed to work best with OUR plates but your plates can be used if the these recommendations are followed.
When using the CHAIN MOUNT option with YOUR plate the bolt hole must be square (.515 x .515) to allow the square shoulder of a carriage bolt to fully seat.  If your plate has a round hole you will have to order a longer bolt.
---
10 inch round plate using the Chain Mount Kit with the Standard Hanger.   This mount is very reactive and will reset quickly.  Great for spotting long range hits.  Great sound due to the single mounting point.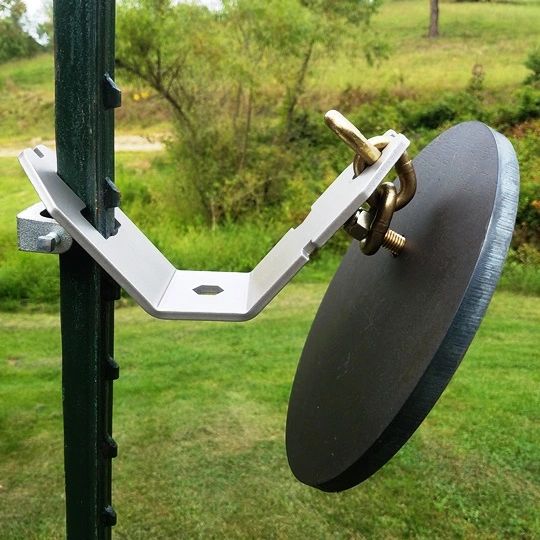 ---
The same 10 inch round plate using a bolt only mount.  The bolt mount can be used on plates that have the hole location higher on the plate.   This mount creates an increased angle on the target plate which helps deflect energy and fragments downward.  This mount also allows less side to side movement for rapid fire engagements.