Silhouette Target shot at 200 yards and closer with a 308 150 gr bullets.
This target is being shot by a 12 gauge slug @ 20 yards. This thing rings like a BELL !
The FAIL SAFE SYSTEM allows the use of lighter, small plates without knock offs and other target failures. When absolute target retention is mandatory the FAIL SAFE system delivers. It uses a modified Hang Fast hanger with a closed hole for mounting the plate to prevent knock offs. The Iron Beam Clamp prevents the hanger from "walking" down the post. We tested this with 12 gauge slugs @ 25 yards in the following video.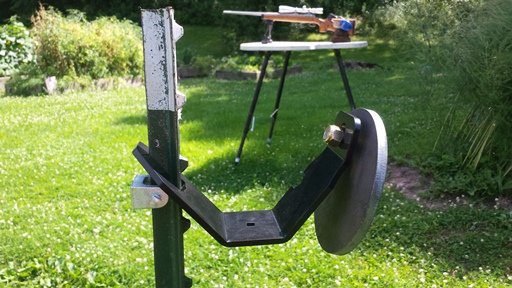 Great target !! I love this thing. Good sound too.
Demonstration with close range angled targets with FRANGIBLE ammunition
This is our new T-POST TWO PLATE SWINGER Designed primarily for rifle use with all exposed surfaces being fully armored with AR500 3/8" steel plate, this target will also work great with pistols too. Mounts ANYWHERE you can pound a T Post, on hillsides or uneven ground so no more balancing acts with unstable target stands. No welds on the AR500 to crack or soften the steel. Plates can be changed in seconds without tools. Plate sizes are 3, 4", 6" and 8". Very heavy duty to withstand years of constant use.
Shown here with our All Terrain T Post Stand on a steep pond bank.
We now have a T post stand for use on hard ground, concrete or where pounding a T Post isn't possible. Very heavy duty made from 1/4" steel with no welds. Designed for maximum stability with 4 contact points on the ground to avoid tipping.
Feet are adjustable to make full contact with the ground, just loosen the bolts and the stand will conform to ground conditions so no more shimming stands to prevent rocking. The T Post holder is adjustable for angle so the T Post can be adjusted for plumb front to back and side to side if ground conditions are uneven. The All Terrain Swinger can be adjusted easily to the proper angle for perfect target performance.
Can be spiked down for ultimate stability. Optional kit available to adapt the stand to firring strips 18" apart. Replaceable holders so bullet damage does not render the unit inoperable. Optional front armor 4.5 x 13.5" AR500 3/8 to protect the T Post holder and deflect spall.
All Grade 8 1/2" x 1 1/2" zinc carriage bolt and thick washers for ultimate holding capacity. Square holes capture bolt shoulder for single wrench use. Works with most heavy duty iron T Posts.  Ships unpainted.
AVAILABLE NOW HERE - ALL TERRAIN T POST STAND
Ringing the dinner bell with an MP5......@ -40 degrees