Our new STANDARD hanger has been re-designed for better functionality with the bolt and chain mounts.
POWDER COATED (Hi Vis Yellow) for durability
CHAIN MOUNT:   A short 3 link section of 3/8" Schedule 70 chain is loosely bolted to the target plate and simply slides over the T slot on the tip of the hanger.   The weight of the plate will hold the target in place on the hanger and T post.   The hole location on the plate will hang the plate at approx 15 degree angle by gravity alone.   The chain mount allows the target plate to be very reactive and the single mounting point enhances plate harmonics for a satisfying CLANG when hit.   Nothing can be simpler.  
BOLT MOUNT:    Bolts of varying lengths can be installed through the plate and secured by installing the locking nut only enough to engage the locking threads.  The longer the bolt the greater the angle the plate hangs.  The Bolt Mount is less reactive when hit and works best when using rapid fire handgun to keep the plate perpendicular to the shooter.    
IRON BEAM CLAMP: The hanger can fall when the weight of the plate is lifted off the hanger so use caution when adjusting heavy plates.   The hanger can be better secured on the post by installing the Iron Beam Clamp below the hanger.
Our Hangers come with built in wrenches for the Iron Beam Clamp and target bolt.
Using the STANDARD hanger with YOUR target plates:
 The Hang Fast Hanger is designed to hold the plate in a position that PROTECTS the hanger and hardware from bullet damage.  The plate MUST cover the hanger to accomplish this.   The bolt hole location in the plate is critical when using this hanger with a chain and MUST be at least 3 ¾" down from the top or the hanger will be exposed to bullet damage.   The smallest plate that can be used with our STANDARD hanger and a chain is 10".  For smaller plates use our FAIL SAFE Hanger.  Most plates manufactured by others have the bolt hole located too high to use with our hanger and CHAIN combo.  For these plates a single bolt can be used to hang the plate.  DO NOT tighten the bolt tight against the hanger.    Our STANDARD hanger is designed to be used with plates 10" and larger.   For  plates 12" and larger the plate bolt hole should be located 1/3 the height of the plate down from the top.  This bolt hole location allows the plate to hang at approx. 15 degree angle.   A 12 inch plate would have the hole at 4" down from the top.  (10" plates have the hole @ 3 3/4" )  Our hanger is designed to work best with OUR plates but your plates can be used if the these recommendations are followed.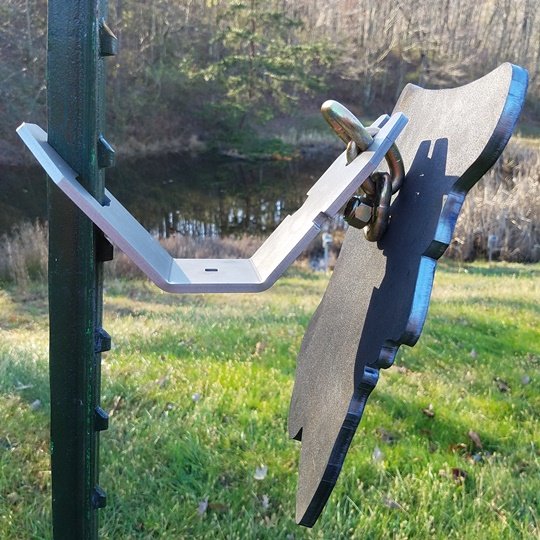 12 inch plate w/ 1 1/2" bolt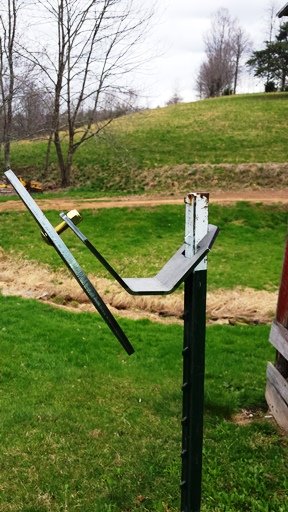 12 inch plate w/ 2 1/2" bolt