Our T-Post Stand is designed to keep the target load PLUMB over the center of the base.  This innovative but simple design uses independently adjustable legs and center post to adapt to any terrain or condition providing absolute target stability.   No more digging, shimming and poor target performance!
Accepts standard forged T-Posts.
AR500 1/4″ or 3/8″ CENTER POST ARMOR
Fully adjustable 24 degrees in every direction for uneven ground and hillsides to keep the load centered for stability.
Adjustable for forward angle.  (24 degrees from plumb)
All Grade 8 hardware
Supports target loads 100 lb +
Stake down holes in feet.
Easy to adjust to any ground condition.
Description
All Terrain T Post Stand
Our T Post stand is fully adjustable (24 degrees) to make firm contact with uneven and sloped terrain.   The Stand will also adjust the T Post for plumb and slope keeping the heavy target load centered over the stand preventing knock overs even on hillsides.   We use the same base for our dueling tree and swinger targets.
Holds standard forged T Posts  ( 1.25 – 1.5 lb/ft)
Footprint 23″ W  x 23.5″ L
AR500 3/8″ or 1/4″  front armor protects the post holder from bullet damage.
1/4″  A36 steel base construction.
Stake down holes in feet.   Not necessary but there if you need them.
Adjustable four ways to keep target load centered over the stand for ultimate stability under heavy fire.
All Grade 8 fasteners   SHOP GRADE 8 FASTENERS
Grade 8 Bolt info
GRADE 8 CARRIAGE BOLTS:
Grade 8 carriage bolts are a crucial component for withstanding the immense stress forces generated when high-energy rifle rounds hit plates. These bolts have a high tensile strength of 150,000 psi, surpassing the 60,000 psi of low carbon non-grade bolts commonly found in hardware stores. While grade 8 bolts are not bulletproof and can still be penetrated, they are designed to endure hits more effectively than non-grade bolts.
One notable advantage of using carriage bolts is their low-profile heads, which significantly reduce splatter deflection. Additionally, when paired with square hole plates, carriage bolts eliminate the need for using two wrenches during installation, providing convenience and saving time.
It is important to note that grade 8 carriage bolts may not be readily available at local hardware stores, so it's advisable to purchase them along with your order to ensure you have the appropriate hardware for your shooting targets.
Target failures can be frustrating, but using grade 8 bolts can greatly reduce the likelihood of such incidents. In a test involving non-grade hardware store carriage bolts, they lasted only about 20 rounds from a 7.62 x 39 rifle at a distance of 50 yards on a 12 x 20 silhouette plate. The failure observed was exactly what grade 8 bolts are designed to prevent, bolt head shearing off resulting in target failure.
In summary, grade 8 carriage bolts provide the necessary strength and durability to withstand the forces generated by high-energy rifle rounds hitting plates. Their use, combined with low-profile heads and compatibility with square hole plates, contributes to a safer shooting experience with reduced splatter deflection.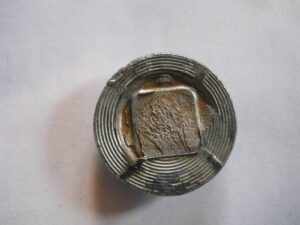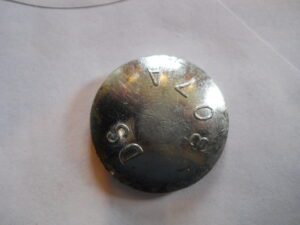 T Post info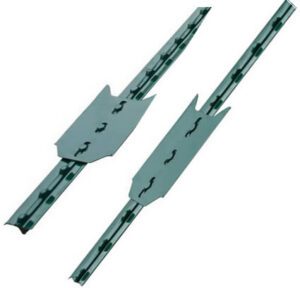 T Posts are manufactured from recycled railroad steel and are available in a variety of weights 0.95lbs, 1.25 lbs. & 1.33lbs, etc. per foot. The post is designed in a "T" configuration, has studs every 2-1/2 inches to help support the fence, and includes a 7 in. long by 3 in. wide steel anchor plate to stabilize the post in the ground.  Our T Post hangers are designed for 1.25 and 1.33 lb / ft T Posts.
Manufactured from rail steel
Weight 1.25 lbs. per lin. ft., including the anchor plate (most common)
Coated with rust-resistant green enamel paint for corrosion protection
Should be driven into the ground a minimum of 12 in.
Use Fence Post Driver or sledge hammer to drive post into the ground.
Using a sledge hammer can deform the post making hanger installation difficult.
Available at most farm and hardware stores.   Home Depot and Lowes.
TIPS:
Inspect the top of posts for deformation before purchasing.  During manufacturing they are cut to length while hot and the ends can become deformed making installing the hanger difficult.  Some deformation is normal, look for twisted or very obvious deformations.
When installing for temporary use or light target loads in firm ground, pound the post deep enough to engage the fin at least halfway.   This will make removing the post easier.
Make life easier and get a T Post pounder.
Make life even easier and get a T Post puller.   For hard ground or deep posts, this tool is a lifesaver.
BUY LOCALLY!  T post are available everywhere and cost more to ship than they are worth.